Social Responsibility
Commsure has grown its contribution to the dynamic socio-economic transformation of the country.
It continues to focus on supporting initiatives that embrace skills development and education.
Below follows more details on projects and initiatives.
Yabonga
Ever since its inception, Yabonga has always reacted and adapted its programmes to the needs of the community, to help directly where help was needed the most. With a clear focus on families infected and affected by HIV/Aids, it built strong relationships with clinics, schools, NGOs and individuals to build a sustainable "circle of support".
Yabonga supports positive change in communities by empowering families infected and affected by HIV/Aids. They work in impoverished areas of Cape Town.
By building partnerships with clinics, schools, NGOs and individuals, they offer psycho-social intervention to empower the children, teenagers and adults to make better choices in life.
Currently Yabonga employs more than 130 staff members, with at least two thirds of them recruited from the Yabonga HIV programme. Every year, more than 2000 individuals and their families benefit sustainably through supportive relationships with Yabonga.
District Six Schools Football League
District Six Schools Football League was formed in 2019 by the Commlife Group. The idea behind this project came about as we became aware of the lack of opportunities school pupils at under privileged schools have at representing their schools at sport.
We believe sport is an integral part of boys and girls development. In its first year the league consisted of a Boys Under 14 and a Girls Under 14 league, aimed at under privileged primary schools. The league presently has over 400 boys and girls participating across various age groups.
Commlife and the District Six Schools Football League will keep striving to take sport to as many kids as possible across our country.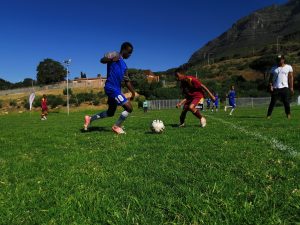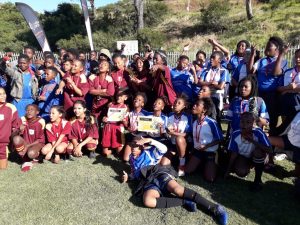 Artwork
For years, we have supported up-and-coming local artists.
We have hosted art displays in the evenings at our offices, giving local artists an opportunity to sell their work.
Some of the artwork is also on display at our Rondebosch office.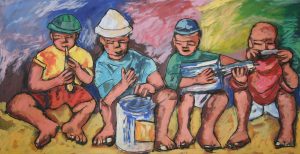 Blanket Distribution
Winters in Cape Town are extremely cold and unpleasant especially when it rains.
At the beginning of the rainy season we distribute blankets to organisations and people who help those in need.
This year our list of beneficiaries include the Erica Day Centre in Mitchell's Plain, The Haven Night Shelter (Redhill), Giving Hands (Jagtershof), Beit-ul-Aman (Wynberg), Vision Child and Youth Centre (Mountview) and St Georges Home for Girls (Wynberg).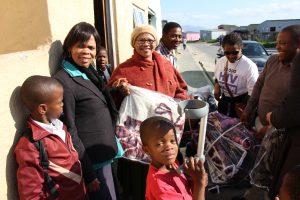 Food Parcels
We assist various charities and soup kitchens in the Western Cape with donations of meat and other ingredients as they provide much needed meals to people who often go to bed without a meal.
This year we supplied Kensington Old Age Home, GH Starcek in Hanover Park, Sheikh Keraan (Kensington),
Rusthof Old Age Home (Paarl), New World Foundation (Lavender Hill), The Haven Night Shelter (Wynberg) as well as the City of Cape Town.